The shoulder is a very mobile joint and needs to be controlled by the ligaments and muscles that surround the joint. Poor stroke technique, previous shoulder injury, over-training and weakness can lead both to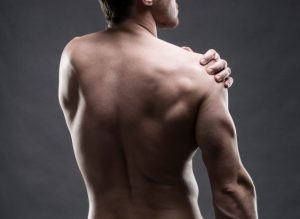 being overworked. If this continues, injuries such as rotator cuff impingement can occur and torn rotator cuff can occur. Here are some tips for preventing torn rotator cuffs. It's really an injury that you want to avoid.
Preventing Torn Rotator Cuffs
Tip #1 – Early injury protection is important in preventing torn rotator cuffs. Rest, ice, compression and elevation should be the initial treatment with any soft tissue injury. Also, the movement that provoked the shoulder pain should be avoided. Ice can reduce pain and swelling, and taping will help to support the rotator cuff. Massage or dry needling may assist during initial injury.
Tip #2 – Overuse is one of the main causes of rotator cuff injuries. It's important not to perform exercises before swimming that cause instability and excess movement which will only fatigue the stabilizing muscles and increase the risk of rotator cuff injury.
Tip #3 – Don't stretch. Stretching the shoulder for further range of motion stretches the stabilizers and impairs its ability to sense joint position. This can cause tissue breakdown and injury.
Tip #4 – Swimmers perform excess overhead motions. It's best to improve muscle length through passive soft tissue mechanisms. This method relaxes the muscle and allows the muscle to retain appropriate muscle length. Deviations from appropriate muscle length can increase the risk of rotator cuff injury.
Tip #5 – Make sure you know how to sense your shoulder position at different amounts of range of motion. It's best to learn the different positions out of the water. This is mandatory for shoulder injury protection, including preventing torn rotator cuffs.
Southeast Orthopedic Specialists physicians are specialists in sports medicine. Sub-specialties include physical therapy, rotator cuff surgery and surgery of musculoskeletal conditions. They perform the latest surgical techniques. If you've incurred a rotator cuff injury, call them for an appointment for an accurate diagnosis and appropriate treatment.
The amount of shoulder injuries in swimming is unfortunate. Realistic and smart injury prevention programs, not isolated to the rotator cuff muscles should always be in place. Injury prevention programs are key to preventing shoulder injuries.
Return to Blog