If you're suffering from chronic back pain, there are a number of options available for relief that don't require an orthopedic surgeon. Back and neck pain are common complaints for many people. Often these conditions can be treated in minimally invasive ways with different lifestyle changes, acupuncture, medications, or physical therapy. The spine specialists at Southeast Orthopedic Specialists can evaluate your condition and help determine the best course of action for your optimal health and relief from pain.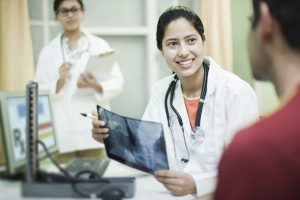 Nonoperative treatment options provide the first course of action for many conditions. Back pain can be extremely frightening because it limits your mobility and comfort in such an extreme way. Patients sometimes don't realize the number of options they have in terms of noninvasive treatment.
Nonoperative Spine Treatment Options
There are a number of pain treatment options that can alleviate pain and return you to your normal standard of living in a relatively short time. These often break down into two categories:
Physical Therapy
Medication
Within these two categories, there are a great many different options and often patients will find relief with a combination of treatments. Some patients may experience good results with a medication in conjunction with lifestyle changes, such as exercise. Often exercise and physical therapy offer patients a long lasting advantage in diminishing recurrences.
Physical Therapy Can Include:
Manual Manipulation by a Trained Physical Therapist.
Acupuncture.
Exercise.
The Use of Braces.
Massage.
Heat and Ice
Medications May Include:
Anti-inflammatory Drugs. This is often the first line of defense in any type of pain and can provide some relief for those with minor injury.
Steroid Injections. These can offer relief for a prolonged period of time.
Stronger Pain Medications. Stronger pain medications can be prescribed for chronic sufferers.
Stem Cell Therapy. Stem Cell Therapy offers the cutting edge advancements in regenerative therapy options.
Muscle Relaxers. Muscle relaxants can often offer some relief for those with minimal pain while healing takes place.
Depending on your injury, your spine care specialist may recommend a few different options. In some cases, surgical solutions offer the best long term improvement, but many cases will heal over time with proper treatment.
If you're experiencing mild to severe back pain and would like a consultation with a Jacksonville orthopedic specialist, contact the Southeast Orthopedic Specialists today.
Return to Blog