People are severely hurt each day, whether in a car accident, a sudden fall, or another unexpected source of trauma. It's hard enough to cope with one's injury or situation in the moment, and the long-term healing can also be very challenging. We discuss ways to deal with the after effects of a trauma, including tips on how to care for your body, and your mind, while you heal.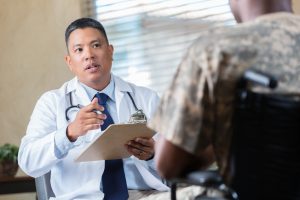 Traumatic Injuries
Experiencing any significant injury can be considered a traumatic event. From a routine fender bender that wrenches your shoulder out of place to a serious fall requiring a total hip replacement, trauma happens to our bodies every day, and in all types of circumstances. In a traumatic event, you will typically be brought to the emergency room for stabilization, pain relief and triage, but what happens after you get out of crisis mode? Finding an experienced surgeon is part of the battle, but it's also important to think about which medical approaches you feel will work well for you depending on your own health history and current level of health. Be sure to find a medical team that you can talk to openly and honestly about your fears and concerns, as well as the outcomes for your healing.
Healing Trauma to the Body
One of the most important things that the body needs following a trauma is rest, but it's important to also move your body as directed by a doctor in order to facilitate healing. Daily activities can often aggravate traumatic injuries that are in early stages of healing, so many doctors and surgeons recommend taking it very easy while also participating in a regular regimen of physical therapy. Moving your body safely and gently while under a specialist's care will help your body come back from trauma with strength and flexibility, and it can also do wonders for keeping your spirits up during a tough time. It's important not to rush your healing, so take it slow, give yourself rest and stay engaged in your plan of care to ensure the best possible outcomes for your recovery.
Contact our team of orthopedic surgeons at Southeast Orthopedic Specialists today to learn more about how our team of 13 Board Certified physicians can help you heal and move past your trauma.
Return to Blog