North Florida Athletics Announces Joint Venture Partnership with Southeast Orthopedic Specialists, Brooks Rehabilitation and Ascension St. Vincent's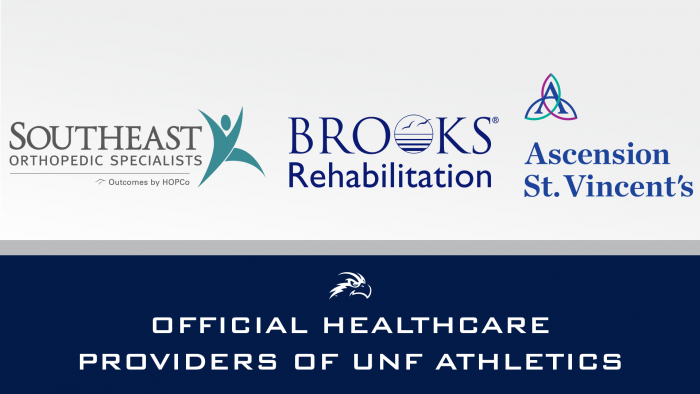 JACKSONVILLE – The University of North Florida Athletic Department announced a joint venture partnership with Southeast Orthopedic Specialists, Brooks Rehabilitation and Ascension St. Vincent's that includes a variety of financial, marketing and service elements.
This five-year agreement, initiated on Nov. 1, 2020, not only features a significant financial investment to UNF Athletics but also provides Osprey student-athletes with access to top quality medical care that includes preseason, in-season and postseason coverage.
"We are thrilled with the caliber of medical services this contract provides for our student-athletes," stated UNF Director of Athletics, Lee Moon. "This holistic coverage includes every aspect of our student-athletes health and welfare from physicals to medical testing, injury evaluations, corrective surgeries, injury rehabilitation as well as advisement in areas like nutrition and mental health. It is an exciting opportunity for us to partner with the region's top medical care organizations in support of our athletes. This is a winning combination on multiple levels."
Southeast Orthopedic Specialists, established in 2001, is a regional leader in musculoskeletal care. Southeast Orthopedic Specialists was founded on the principle of providing high-quality, comprehensive care in the North Florida region. The entire spectrum of orthopedic care is provided to patients including: orthopedic surgery, spine care, physiatry, pain management, chiropractic, podiatry and physical therapy. Physicians at Southeast Orthopedic Specialists are leading experts in their field with decades of experience, including the completion of multiple fellowships and groundbreaking research.
"Our Sports Medicine experts at Southeast Orthopedic Specialists all have the shared goal of getting athletes of all ages back in the game," said Donnie Romine, CEO of Southeast Orthopedic Specialists. "We felt this partnership with UNF was a great opportunity to help keep their elite athletes at the top of their game."
For 50 years, Brooks Rehabilitation, headquartered in Jacksonville, Fla., has been a comprehensive source for physical rehabilitation services. As a nonprofit organization, Brooks operates one of the nation's largest inpatient rehabilitation hospitals in the U.S. with 160 beds, one of the region's largest home healthcare agencies, over 40 outpatient therapy clinics, a Center for Inpatient Rehabilitation in partnership with Halifax Health in Daytona Beach, the Brooks Rehabilitation Medical Group, two skilled nursing facilities, assisted living and memory care. In addition, Brooks operates the Clinical Research Center, which specializes in research for stroke, brain injury, spinal cord injury and more to advance the science of rehabilitation.
"Brooks Rehabilitation has a long history of partnering with UNF through the Brooks College of Health for nursing and physical therapy programs and also as the official rehabilitation partner of UNF athletics," said Victor DeRienzo, Brooks Rehabilitation COO for Outpatient and Aging Services. "We look forward to supporting the teams with our expertise in sports therapy, allowing athletes at all levels to reach their peak performance goals."
Ascension Florida and Gulf Coast includes Ascension St. Vincent's based in Jacksonville, Florida, Ascension Sacred Heart based in Pensacola, Florida, and Ascension Providence in Mobile, Alabama. Ascension Florida and Gulf Coast operates nine hospitals and more than 100 other sites of care, employing more than 13,000 associates. Ascension is a faith-based healthcare organization dedicated to transformation through innovation across the continuum of care. As one of the leading non-profit and Catholic health systems in the U.S., Ascension is committed to delivering compassionate, personalized care to all, with special attention to persons living in poverty and those most vulnerable. Nationally, Ascension operates more than 2,600 sites of care – including 146 hospitals and more than 50 senior living facilities – in 19 states and the District of Columbia, while providing a variety of services including clinical and network services, venture capital investing, investment management, biomedical engineering, facilities management, risk management, and contracting through Ascension's own group purchasing organization.
"This partnership is rooted in our Mission to improve the health of individuals, families, and our entire community, both within and beyond the walls of our facilities," said Ascension Florida and Gulf Coast President and CEO Tom VanOsdol. "We are excited to join with our outstanding partners to ensure that every student athlete at the University of North Florida receives the clinically excellent, compassionate, personalized care they need, when and where they need it most."
Return to Blog