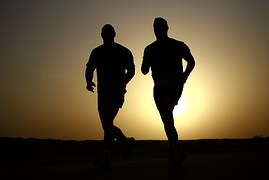 Anyone who runs regularly has likely experienced an injury of some degree. Experts vary in their opinions on the common causes of running injuries. Some blame runners' form while others accuse the surfaces on which they run or their bodies. Others look to running shoes as the culprit. In fact, running injuries can be a combination of the wrong shoes, training errors and anatomical issues.
In recent years, sports medicine physicians have changed their focus from treating running injuries to working to prevent them. Florida residents who are serious runners and want to avoid injuries would do well to work with an orthopedic specialist and perhaps a physical therapist who specialize in running to help ensure that their bodies, their form and their shoes are all working together to minimize the risk of injury and maximize the productivity of their runs.
Everyone is unique so it's best to work with experts who can determine what is best for you. However, in general, there are steps that runners can take to improve their form and their strength. Further, everyone needs to find the right shoe for their needs.
Improve Your Form
Everyone runs differently and there is no one "right" way to run. The position in which the foot impacts the ground is particularly important. Experts disagree over whether landing on your forefoot or midfoot is preferable to landing on your heel. However maintaining good posture and a stride can help prevent running injuries. You also want to avoid over-striding. You may want to see a physical therapist who has experience with gait-retraining to help you correct your errors.
Improve Your Strength
Sports medicine specialists are in agreement on the importance of building strength to preventing running injuries. Strong muscles help you improve your form and have a consistent gait which assists the body in knowing what to expect and how to properly brace for each impact.
There are a number of exercises that can improve the strength of the muscles most important to running. These should be done consistently.
Working your glutes in different positions is helpful to having a stable spine.
Jumping exercises help improve your elasticity and minimize the impact when you land.
Exercises that improve mobility, such as kneeling hip flexor stretches, help muscles work properly while running, which decreases the risk of injury.
The Right Shoes Can Make a Difference
Running shoes can change your form and therefore decrease the stress on your feet and legs. You also want to choose the right shoes for the surface on which you're running. Some Florida physical therapists and physicians recommend switching your shoes depending on the length and type of run as well as the surface.
At Southeast Orthopedic Specialists, our Jacksonville orthopedic surgeons and physical therapists work with Jacksonville athletes, both professional and amateur, to improve their performance and reduce the stress of their athletic activities on their bodies. We want them to spend more time engaging in sports and less time sidelined with injuries. To find out how we can help you, call us or contact us on our website to schedule an appointment.
Image Courtesy of: Wikimedia Commons
Return to Blog