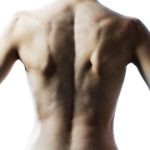 Pinched nerves, also known as compressed nerves, are usually the result of a nerve being pressed between two hard surfaces like ligaments, tendons or bones. Numbness, pain and a tingling sensation are often cited as the most common symptoms.
Pinched nerves can occur throughout the body, but certain areas are more susceptible, including the neck, elbows, wrists, lower back and shoulders. Read below to learn more about the signs of a pinched nerve. If you are experiencing nerve pain or numbness, consult with a sports medicine specialist or a physician immediately.
The Back
A herniated disc, weakness or any other change that develop in the discs and vertebrae of the spine can put pressure on spinal nerves. Radiating pain, particularly sciatica or radicular pain, can often be a symptom of a pinched nerve in the back.
The Neck & Shoulders
Nerve compression in the shoulders and neck often leads to pain or numbness in the arms as well. Weakness or decreased motor skills are often a sign of a pinched nerve as well as a tingling sensation in the hands and arms.
The Limbs
A pinched nerve in the elbow or wrist can be caused by existing conditions like carpal tunnel syndrome, tennis elbow or diabetes. Symptoms might include numbness, pinprick-like sensations or weakness anywhere in or throughout the arm.
In all cases, signs of a pinched nerve can vary from radiating or localized pain to tingling, burning, numbness or even loss of motor function. Treatment for pinched nerves often boils down to plenty of rest, but it is important to consult an expert in orthopedics for an appropriate diagnosis.
In some cases, steroid injections, physical therapy, anti-inflammatory drugs, oral corticosteroids or even surgery is required. If nerve compression persists, the protective layer around the nerve can break down, resulting in more serious issues like peripheral neuropathy or permanent nerve damage.
Please contact the Florida orthopedic specialists at Southeast Ortho to discuss symptoms that you are experiencing. Our qualified staff will determine your medical issues and best possible treatment options so that you can get back to the life you love.
Image Courtesy of: http://www.photocase.com/photo/258113-stock-photo-human-being-back-athletic-musculature-torso-spinal-column
Return to Blog