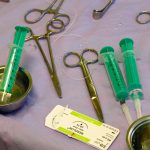 Surgery is often a life-changing event for patients who have struggled with a chronic health condition or pain for any length of time. It can also be a time for nerves and stress.
However, when patients are prepared for surgery, they experience far greater results and less stress. Read below for key things to consider when preparing for your orthopedic surgery. 
5-7 Weeks Before Surgery 
Begin a healthy lifestyle routine now to insure a smooth recovery after your surgery. For example, if you smoke, stop now. Smoking cigarettes inhibits healing in two important ways. First off, it decreases oxygen flow to wounds that need it, and secondly, toxins in cigarettes impair healing. Adopt an aerobic exercise program to maximize the lung's efficiency; this prevents harmful conditions like atelectasis from developing after surgery.
5-7 Days Before Surgery 
In the days before your surgery, keep an eye on your health and disclose any changes in your condition to your surgeon, even if they seem minor. Your surgeon will advise you to stop taking medications that thin the blood, such as aspirin, Plavix or warfarin, as well as any vitamins that might have the same effect (vitamin E, ginko-biloba, etc.).
Day Before Your Surgery
Most, if not all, orthopedic surgeries require patients to abstain from eating or drinking after midnight before their surgery. Your doctor may schedule you for a pre-admission visit the day before your surgery so that medical staff can draw blood work or conduct any further preparatory work before your surgery.
Day of Your Surgery
To avoid rushing and to ensure that all pre-op paperwork and procedures are properly completed, arrive at the hospital no less than one hour ahead of your scheduled surgery time. Make sure you bring all insurance cards, identification and paperwork that your physician may have given you at your office visit.
At Southeast Orthopedic Specialists, we will be available to answer your questions about your upcoming surgery. We understand that this can be a stressful time for our patients, and our staff is as warm and understanding as they are professional and knowledgeable. Don't hesitate to contact us with questions about your surgery, or visit our site to learn more about preparing for orthopedic surgery.
Image Courtesy of: Creative Commons
Return to Blog