Exercising in the heat without the proper precautions can lead to complications. When your body gets overheated, you may be at risk of heat cramps, dehydration and even heatstroke. To stay safe while you are exercising during the hotter months of the year, follow the tips below.
1. Get a physical.
Before you begin any exercise regimen, it's important to make sure that you don't have any serious health problems that could put you at a higher risk of complications. Contact a sports medicine doctor to schedule a comprehensive physical.
2. Get acclimated to the temperature.
If you are new to exercising outside, build your tolerance to higher temperatures slowly. Begin with shorter, less demanding workouts and increase their intensity gradually over time.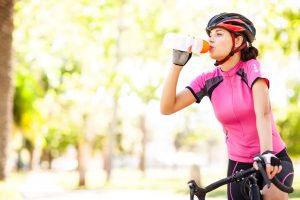 3. Stay hydrated.
While you are exercising outside, be sure to drink plenty of fluids to avoid dehydration. During the hotter months, you should consider increasing your intake of liquids throughout the day even when you aren't planning to exercise outside.
4. Exercise during the cooler times of day.
If the weather is particularly hot, consider getting up early to exercise or waiting until the temperature falls in the evening. This helps you avoid the hours with the strongest sun and the highest temperatures.
5. Dress for the weather.
Wear light, loose-fitting clothing while you exercise so that your sweat can evaporate easily. Avoid wearing dark colors that absorb light and raise your body temperature.
6. Avoid incredibly high temperatures.
Watch the weather carefully before you exercise. If the temperature is expected to reach an unsafe or incredibly uncomfortable level, exercise indoors instead. You should also pay attention to how you feel during your exercise regimen. If you start to feel overheated, end your session early and head back inside to cool off.
Return to Blog