If you're considering knee replacement surgery, you probably have some questions about the procedure. Read below to see if we have addressed your concerns. If not, please contact one of our trusted orthopedic surgeons.
When Should I Have Knee Replacement Surgery?
It depends on your situation, but if knee pain prevents you from walking across a room, you may not have a choice. An orthopedic surgeon can assess your situation and help you determine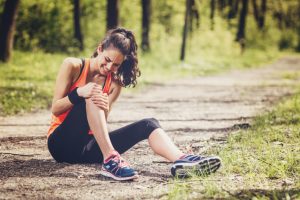 the course of action — every person is different when it comes to treatment.
How Long Does Surgery Take?
Your surgeon will remove the damaged sections of bone and cartilage and replace them with synthetic components that move like your natural knee. Your scar will be anywhere from four to 10 inches long. Most knee replacement surgeries take about two hours.
What Happens Immediately After Surgery?
Your knee will be bandaged and may have a drain to remove excess fluid. Your knee will be placed in a continuous passive motion (CPM) machine that extends and flexes your knee while you recline. You'll also receive antibiotics, anti-nausea medication and blood thinners through your IV.
Will I Feel Pain Following Surgery?
You will have some pain after surgery, but it won't last long. On the days you experience pain, you'll take prescription pain killers for relief. In the hospital, you'll receive pain relievers via an IV. After discharge, you'll take pills.
What Is Recovery Like?
You'll start walking the day after your surgery. You'll probably need a walker or crutches at first. A physical therapist will assist you in the hospital as you learn to use your new knee. After you are discharged from the hospital, you'll continue to receive physical therapy either at home or an outpatient rehab center. You can read more about the recovery process on our blog.
Do I Need to Modify my Home?
If you live in a multi-story home, you'll need to set up an area on the ground floor where you can sleep until you can safely manage stairs. Make sure you remove obstacles like throw rugs, electrical cords, furniture and clutter from walking paths. You may also want to install handrails or grab bars in your bathroom to help during bathing.
How Long Is Recovery?
You can resume normal activities within several days of surgery. Low-impact exercises can start within six weeks, depending on your recovery. Your physical therapist can help you determine when you're ready for more strenuous activity.
If you have more questions, don't hesitate to contact our team of board-certified orthopedic surgeons in Jacksonville. Call us at (904) 634-0640 or use our convenient online contact form.
Return to Blog