When agriculture spraying technician Sammy Burch began having intense pain in her right hip, she just thought she had thrown her hip out and could easily get the problem fixed with a visit to the chiropractor. But when her chiropractor saw her, he recognized there were deeper problems and sent her to an orthopedic specialist. For a woman whose work was intensely physical, Burch was all about finding out what this diagnosis meant to her career in agriculture.
Little did she know, she was headed for a full hip replacement and with the dizzying amount of questions she had, she says now, she wished she'd have had a guide on this trip.
If you are finding yourself in the same predicament, you might feel anxious and unsure about many things. For this reason, we have offered up a list of questions that might calm you a little bit when your Jacksonville orthopedic healthcare professional or sports medicine physician visits with you and answers them.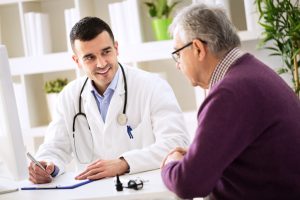 Helpful questions 
Other Options – You may ask your doctor about possible options that are nonsurgical. Perhaps you want to avoid the down time and yearn to get back to the things that you are passionate about. These days there are numerous treatments being studied and one of those is stem cell treatment. Depending on your particular case, this might be an option to discuss with your physician.
Risks – Going into any surgery, you want to know what the risks are. With hip replacement, there are risks that include everything from a hip that does not "set" or remains dislocated, to fracture of the bones, blood clots and uneven leg length. All of these possible issues should be openly discussed with your provider.
Experience – Any healthcare provider who is performing hip replacements should be very comfortable answering the question of just how many of these procedures he has performed, as well as how many have had serious complications. You have a right and personal duty to yourself to ask this question.
Down time – You will need to be prepared for how much time it will take for you to allow yourself the time it takes to properly heal. This is a question of utmost importance to ask your surgeon.
Changes at home – You will need to know how much help you will need in the days preceding your surgery. You will also need to know if there is some way you need to temporarily or permanently change about your home to accommodate you after surgery. For instance, if your bedroom is on the third floor, then perhaps a bed on the first floor, at least temporarily might be in order.
How long with it last– When you purchase a new refrigerator you ask how long the warranty is good for right? You should do a little digging into how long your new joint will last as well. You should also find out from your physician if he will correct problems that arise, depending on why they have become an issue.
Some other questions that are important is the cost of the procedure. These days, insurance plans are more specific regarding what they will cover and what they will not. A thorough investigation into whether or not your insurance will cover this procedure is a must. If you do not have insurance, your provider may be able, if you ask him or her, to hook you up with programs that can help you pay for your treatment. For more information or to discuss your possible hip replacement call our offices at 904-634-0640.
Return to Blog