Exercise technology is a booming business, with wearable fitness technology estimated to grow to a $19 billion industry by 2018. Many exercise enthusiasts swear by their fitness trackers while others are simply overwhelmed by the dozens of options. Using a fitness tracker can help you remain informed about your physical activity level and stay motivated following an orthopedic injury. Ask your Southeast Orthopedic Specialists about the possible benefits of fitness trackers for your health.
Common Types of Fitness Trackers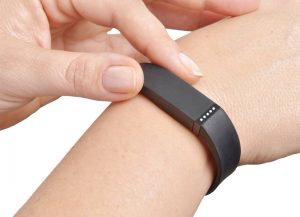 There are dozens of brands of fitness trackers available on the market. Before you even look at the specs for specific devices, think about the reason you want to purchase a fitness tracker. Are you looking for something that can keep track of your general mobility each day? Provide specific statistics about your heart rate? Track certain types of exercise that you like to engage in? Gives you information about your sleep cycle? All of these are options that are available with various devices.
After you think about the type of fitness tracking that you need, it is time to consult specific brands. Entry level fitness trackers give you information about the number of steps you take, calories burned and total distance walked each day. As price and complexity increase, you can get additional information about sleep cycle, heart rate, progress toward fitness goals, personal training recommendations, elevation changes and even blood oxygenation. Features such as waterproof design, screen lighting or fashion elements may be important to some users.
Benefits of Fitness Trackers
One of the biggest benefits of fitness trackers is that they give you a day by day peek into your physical fitness level. Wearing a fitness tracker can help you understand your baseline level of physical activity and areas in which you need to improve.
Using a fitness tracker may also motivate you to achieve. The majority of fitness trackers sync with your phone or other wireless device. This means that you can quickly review your fitness level and progress toward goals. Most wearable devices have software programs that allow you to track activity over time, reviewing your stats in attractive and easy-to-follow graphs. This can be incredibly motivating even for casual fitness enthusiasts.
One of the potential drawbacks of fitness trackers is that their fun nature may lead some users to try to do too much, too soon. When beginning any new fitness routine, it is essential to gradually increase your activity level. Otherwise, you risk an overuse injury that could require treatment by Jacksonville orthopedic specialists.
Return to Blog